Red Capsicum: Health Benefits And Nutritional Value That You Should Know
Posted by Admin on August, 09, 2021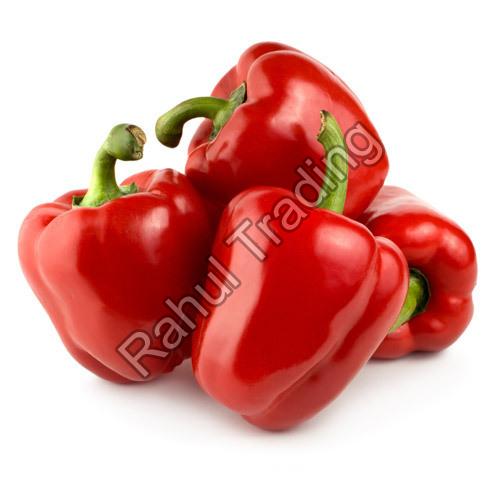 Fresh red capsicums that are available with the fresh red capsicum suppliers are also known as bell peppers which are added to various cuisines because of their sweet taste. The bitter green capsicum's mature version is fresh red peppers and the latter belongs to the family of Capsicum Annuum. Capsicum annual belongs to the same family of chili pepper, cayenne pepper, and jalapeno. The red capsicums are termed red bell peppers. Capsicum annum the family which produces red pepper belongs to South Africa and Central.
As far as history is concerned, bell peppers came into being and were widely recognized as a vegetable some 7500 years ago. They are now vastly cultivated throughout the world and remain to be one of the most loved vegetables that are known to enhance the taste of several dishes.

Health Benefits Associated with Red Pepper
Red capsicums are the most common vegetable produce throughout the world and are credited for being the richest source of A and C vitamins. And as you might be unaware, about 47% of your regular vitamin A dosage is fulfilled by a half-cup of uncooked red capsicum.

Red Capsicum Improves Your Immune System
Vitamin C is a powerhouse of antioxidants that is responsible for battling out the deterioration of cells. The response created to microbes by the immune system is also improved by the vitamin c present in red capsicum. Furthermore, red capsicums are also linked to having an anti-inflammatory effect on the human body.

Your Skin and Eye Health is Improved Through Red Capsicum
You can dramatically improve your vision through consuming fresh red capsicum, owing to the presence of beta-carotene and A vitamin. Furthermore, you can also experience a boost in your wound healing power, white blood cells development through Vitamin A.

Nutritional Value in Red Capsicums
Red capsicums are a powerhouse of several important antioxidant compounds, minerals, and multiple vitamins. You will also be surprised to learn that this is the only variety of capsicum which doesn't include capsaicin. Capsaicin is the compound that adds up the spice factor.

The Nutrition Present in Red Capsicums
• Calcium
• Riboflavin
• Niacin
• Folate
• Vitamin B6
• Beta-Carotene
• Magnesium
• Potassium
• Iron
• Vitamin E
• Vitamin C
• Vitamin A

Using Red Capsicum and How?
Red capsicums are used throughout the world and you can buy them either from online stores or from supermarkets as well. The red capsicums are popular because of their vibrant red colour and since they are easy to cultivate. You can add them to a myriad of dishes because of their sweet and bright taste.
• Slice the red capsicums in half and you can consider stuffing them inside a roast, pistachios, and quinoa.
• You can make a beautiful and tasty concoction of vegetables with red capsicum, sweet potato, onion, and red peppers.
• You can top pizzas with red capsicum.

There isn't much difference noted between red capsicum or yellow capsicum or even green capsicum. They are high on phytonutrients, carotenoid, and even beta-carotene. They taste fruity and are preferred in all types of dishes. Though red capsicums are new in India, they are being sold by fresh red capsicum exporters and are being used in a variety of Indian dishes and curries.
This entry was posted on August, 09, 2021 at 14 : 42 pm and is filed under fresh vegetables. You can follow any responses to this entry through the RSS 2.0 feed. You can leave a response from your own site.